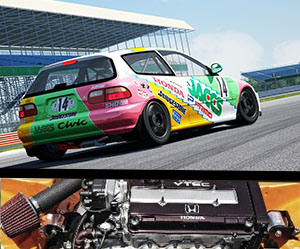 Hi all, japanese friends! I'm
Beniamino "Benia"
and I'm writing from
Italy
, my team is the
PLZ Racing Team
, on
playerzone.it
! I'm very happy to see a japanese community for Assetto Corsa
. In Italy we love Japan's Car also, i have a Impreza WRX GC8 (old school)!
I would propose you a our new engine sound for
Honda Civic EG6 JTCC GrA
MOD for Assetto Corsa. The engine sound was developed by my friend
"elMariachi90"
, a famous sound designer.
You can find the audio files here:
http://www.playerzone.it/racing-sims/as ... ra-jtcc-ac
A preview here:
http://www.youtube.com/watch?v=ZQ0sGA4mob0
Car MOD here:
http://adf.ly/12135469/civicgra-car
I wait your impressions
.
Traslate by google:
すべて、日本の友人こんにちは!私は[B]ベニアミノ「Benia"を[/ B]と私は、[B]、イタリアから書いている[/ B]、私のチームは、[B] PLZレーシングチームですよ[/ B]、[B] playerzone上。それ[/ B]!私はAssettoコルサ:)のための日本語のコミュニティを見ることは非常にうれしいです。イタリアでは、私はインプレッサWRX GC8(オールドスクール)を持って、また、日本の自動車が大好き!
私はあなたに[B]ホンダシビックEG6 JTCC GrAのAssettoコルサ用[/ B] MODのための私たちの新しいエンジン音を提案する。エンジン音は、私の友人[B] "elMariachi90"[/ B]、有名なサウンドデザイナーによって開発されました。
[B]あなたが現在のオーディオファイルを見つけることができます:[/ B]
http://www.playerzone.it/racing-sims/as ... ra-jtcc-ac
[B]ここにプレビュー:[/ B]
http://www.youtube.com/watch?v=ZQ0sGA4mob0
[B]カーMODはこちら:[/ B]
http://adf.ly/12135469/civicgra-car
私は感想を待って:)。